there are so many crafty minds out there in the world its absolutely inspiring! new ideas and techniques are popping up all over the place...so here's something that i admittedly didn't pioneer, but instead have developed to fit into my tasty world.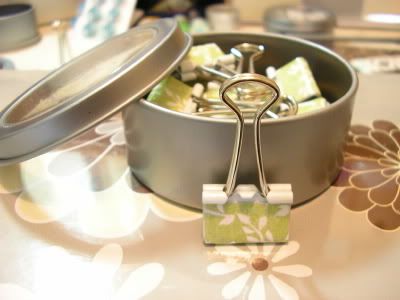 they are those cute little binder clips embellished with tasty graphics. this set of 12 comes in a super cute metallic tin with see thru lid and a magnet on the back to be able to hang off the side of your filing cabinet. i also have large size clips in a set of 6. look for them on the website soon.
and here's a pic of my studio helper, gunner, he's my little manx cat that loves to hang around when i'm designing. i love him.
cheers!
xo diane