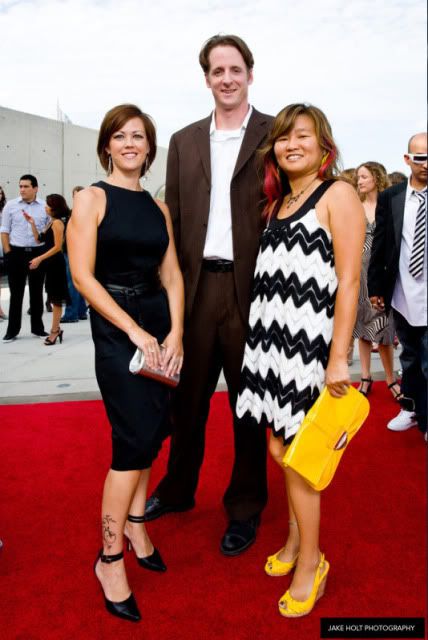 So what do you wear for your first red carpet experience? Well, I decided to go vintage and try on a dress that I hadn't worn in about 7 years. Lo and behold, it fit! Its a Givenchy inspired "little black dress" that I accented with a black leather obi style belt. My purse was a vintage silver clutch which held the essentials; iPhone, lipstick, money & emergency granola bar in case I got hungry. :)
Here's a closer shot of Rob, Aimee and I: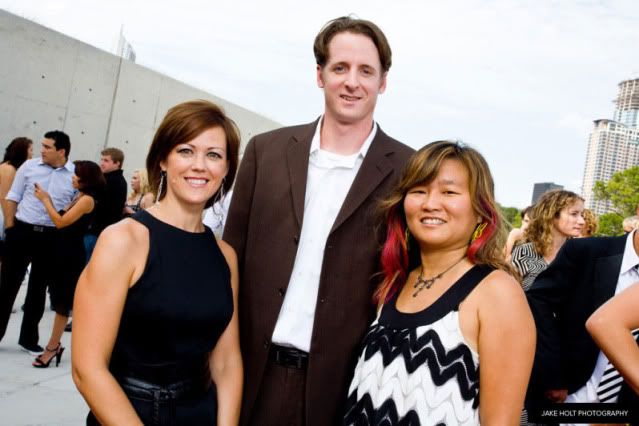 We weren't really sure who the press was stopping to interview. It seemed sort of random so I thought maybe they'd grab me, but I wasn't so lucky.
The Austin Fashion Awards show was great. There were so many people there it was electric!
Alpha Rev
started the show while people were getting seated.
Jenny Hart
was the charming emcee of the evening, making everyone feel welcome with a lovely sense of humor too.
The Soldier Thread
&
Ume
both played live during 4 different designers' fashion shows and
The Octopus Project
closed out the night.
We had a great time chatting and meeting people that I feel like I could do that every week! I am going to miss having so many social events to attend.
A big thanks to Matt Swinney of
Launch 787
for putting together this whole beautiful week. He and his support team did an amazing job. And kudos to Austin for being so stylish!