If you know anything about music, you've probably heard of the Austin City Limits music festival that happens around this time every year. Its a three day musical extravaganza featuring some of the hottest names in music today. Click on the image below for more information. There are still one day tickets available for today & Sunday.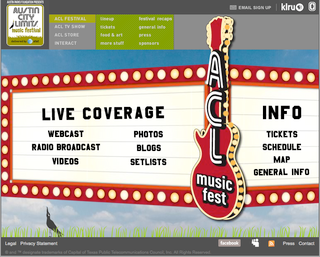 Speaking of Sunday....
I am SOOOOOOO looking forward to seeing the Foo Fighters again. It's been way too long since I've seen them. As a matter of fact, the last time I did was when they were playing much smaller venues like the Riviera, & the Aragon Ballroom both in Chicago. I just wish my friend and fellow Foo-lover Caroline was here to go with me. I'm happy that they moved it back one week from past years. Septembers in Austin are pretty hot and spending all day out in the sun doesn't leave you with much energy for the headlining show at the end of the night. But this year's weather is shaping up to be nothing less than perfect. Warm, sunny days and cool, dry nights. Mmmmmm.
So rock on all you ACL festival goers. Maybe I'll see you there!