i've been busy from the fallout of my latest mention of my salt & pepper shakers on the austin tidbits website & newsletter and couldn't be happier. i was notified by the lovely ladies about 2 weeks ago that they were going to do an editorial on them and how they wanted permission to use a photo from my site, so i knew it was coming...i just didn't know when.
so in the meantime i had been quickly taking photos and getting web pages built for the new goodies i had planned for the spring. i wanted everything to be ready for when people hit the site...and it was. whew!
here is a photo of some of the new earrings i have: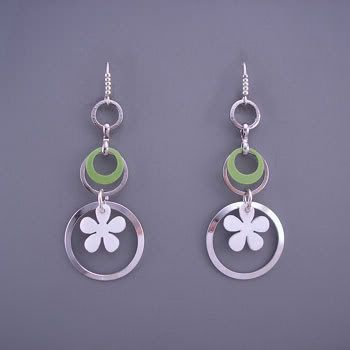 i call them flower power and just love them. they are offered in loads of different colors; candy, berry, lemon, sno-cone and licorice to name a few. if you click on the picture it will take you to the site.
since the recent "discovery" of so many copy cats to my work, i have decided to just go on and leave them in the dust. like i said before, i always have loads of new designs and ideas....
cheers!