here is a photo of the latest necklaces that i've been working on for my
www.tastyjewelry.com
website.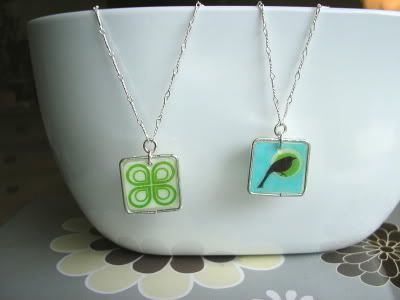 i just got that mini, twisted, sterling silver chain at the latest bead show here in austin. i was inspired by its delicate nature to come up with some small pendants to hang from it. they are 5/8" square so not too big. and i used completely original artwork that i made myself.
the mod teardrops and bird graphics will be available in several colors and the necklace will retail about $36.
i should have it up on the website in about a week or so....
oh, and have i mentioned that my best friend caroline is coming to visit me from chicago? yeah, that's where i used to live you know. for 14 years. i miss it.
cheers!
xo diane