i am sitting here in austin, tx at noon on saturday may 3rd and am in awe of the AMAZING weather that i am experiencing at this very moment. its cool, there's a breeze and its about 72 degrees. that makes it the most perfect weather in my book.
i'm going to go outside in my backyard and read my latest issues of
bon appetit
,
everyday food
, and take a peek into my newest cookbook, italian easy.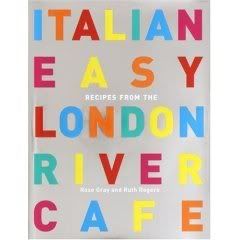 i used to watch this cooking show featuring ruth rogers and rose gray of the
river cafe
in london and it was amazing. the way it was filmed, the way they talked about food, and the dishes looked absolutely scrumptious! they even gave that cute rocker chef
jamie oliver
his start. these women know what they are doing!
well, off to be enlightened by food! have a great day....
cheers!
xo diane