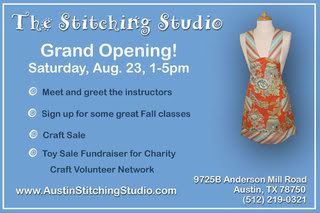 Are you interested in learning how to make your own jewelry or perhaps how to sew your own purse? With workshops, classes and studio time available
The Stitching Studio
is the place to make that happen.
Whether you are a beginner just learning the fundamentals or an advanced crafter perfecting your technique you will love the variety of classes being offered here.
Now is the perfect time to get started...come join us for a fabulous grand opening this Saturday from 1pm to 5pm.
Meet the teachers, shop for some handmade goodies, and get inspired by all the crafty classes you can take. There are even classes designed for you to hand make your own holiday gifts!
I will be there selling my jewelry and registering people for my Swarovski® beaded ring classes offered next month. (Sept 6th, 9th & 30th)
So come out and see all the great things you can make yourself!
cheers!
xo diane