Since I've been back from NYC its been pretty rainy here. I must say it's a great change of pace from the 100+ degree weather we've been having. Not to mention that we're in a drought so huge that it would take probably 40 days & 40 nights of straight rain to even put a dent into it. Anyways, its keeping me indoors and chained to my workbench.
Don't get me wrong, I love what I do so it doesn't really feel like work. There are the occasional times when I have to do some administrative stuff which is definitely my least favorite part of owning my own business. Some day I'll have "people" to do that for me, but until then I digress...
So a little history...I thought I'd share a little about how I got my start. When I first moved to Texas several years ago I was in San Antonio for a short time and got a job at the
original Adelante Boutique
in Alamo Heights.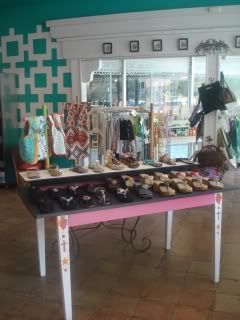 At that time it was newly owned by Marla Mason Ross who had taken over the reins from her grandmother Mama Pat. Marla had a great eye for what the store would become and was the first one to purchase and sell my jewelry in her shop. She continues to bring fresh and innovative merchandise to her shop as well as pursues her own entrepreneurial spirit.
Well, fast forward to about a year later when I moved to Austin. I had met my now best friend Kristen who was working for the
Adelante Boutique
in Austin. She introduced me to Tricia Roberts (who is Mama Pat's daughter & also Marla's aunt) who had opened her own shop back in 1992.
I started selling my jewelry there immediately and think I even had a trunk show within the first few months of being in town. Tricia and I quickly realized that we shared a common interest in aesthetic & design. After many years of building our relationship we decided that we should collaborate on a private label line of jewelry for her shop. Which is where we are today. I've learned so much from her and look forward to continuing on this journey...
So there's a little peek into how I started & now maintain my business. To Marla, Kristen & Tricia I feel like I owe the world. It's such a pleasure knowing them all!
cheers!
xo diane