Last night was the 20th annual La Dolce Vita Food & Wine festival put on by the Austin Museum of Art. You may remember that I was recently contacted by my friend Justin to create commemorative wine charm sets for this event, and in return I received complimentary entrance into the event.
I should start by saying that the weather was phenomenal. It was hot earlier in the day, but around 5 pm a cool front moved in and made the night so beautiful! I had invited my friend Marlayna to come with me since she is starting a business that caters to women traveling to Italy plus she shares the same passion for cooking, food & wine as I do.
The event was set up so beautifully, the driveway of Laguna Gloria was lined with about 70 booths of both food & wine so to say that the offerings were plentiful would be an understatement. It seemed like almost every type of cuisine was represented, with Italian being the main focus.
From
Primizie Osteria
: A bite of rigatoni with a meatball and marinara garnished with a cherry tomato & fresh basil leaf. So succulent and super tasty.
They also had the most beautiful array of local roasted vegetables too.
From
Moonshine Grill
: A "corn dog" shrimp - which might sound crazy, but it was more like crazy good! A tender shrimp wrapped in corn dog batter & fried, then garnished with a sweet honey mustard.
From
Bess Bistro
: We had a lovely lamb lollipop with a rosemary glaze over truffle scented polenta. I was too busy eating that one to take a photo...sorry.
Onward to
Canolli Joe's
where they had grilled filet mignon over gorgonzola mashed potatoes. The meat was cooked to perfection and the potatoes were absolute heaven!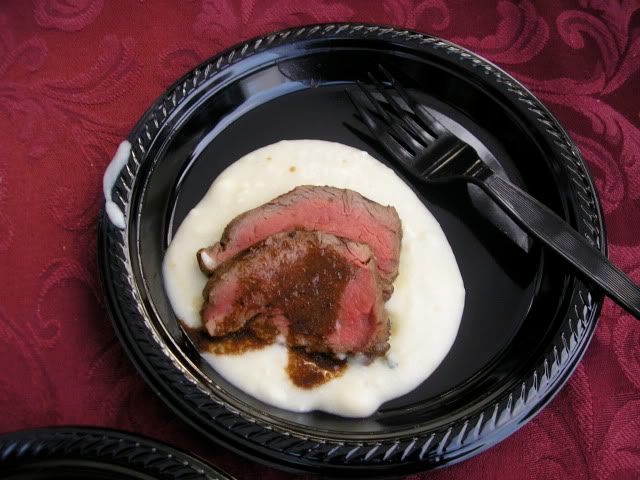 At this point the sun was going down a bit and the people were getting a little tight, so taking photos became a little more difficult. But for certain items I just
had
to get a snap.
From
NoRTH Modern Italian
: Braised beef short ribs over creamy white corn polenta.
From
Taj Palace
: Curried chick peas with a potato cake. Super flavorful!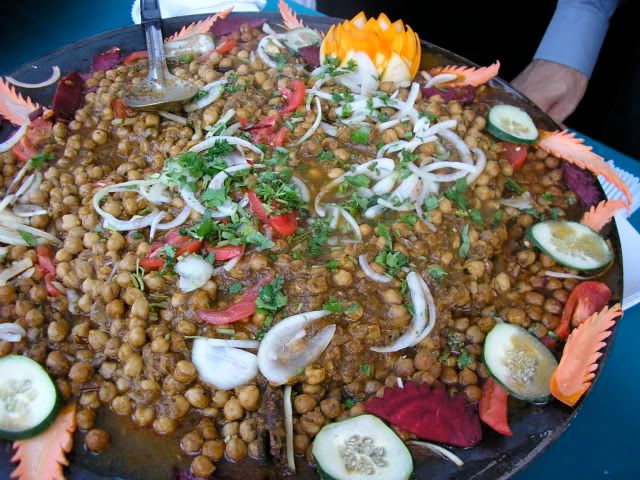 From
The Carillon
: Hamachi crudo with roast hazelnuts, celery & currants. This was hands down my favorite bite of the evening. Clear, clean & fresh flavors met with a perfect balance of textures. Simply amazing. I met
Chef Josh Knotts Watkins
and am now a huge fan.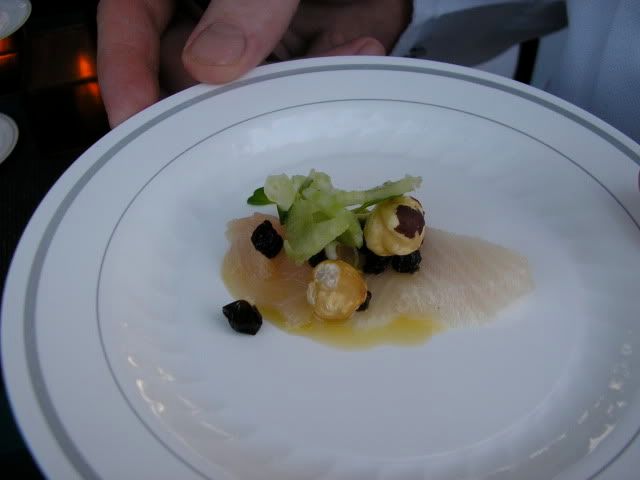 Wine kept flowing and the crowds got much bigger...it seemed as if everyone was in some sort of food-induced euphoria. Or it could have been the wine. Thanks to
Twin Liquors
for that!
My favorite dessert of the evening were the profiteroles from
Andiamo Ristorante
. A beautiful puff pastry filled with custard then enveloped in luscious chocolate. It was truly a melt-in-your-mouth experience. It was the only place that I went back for seconds. :) Sorry my pic is a bit blurry since it was so dark outside.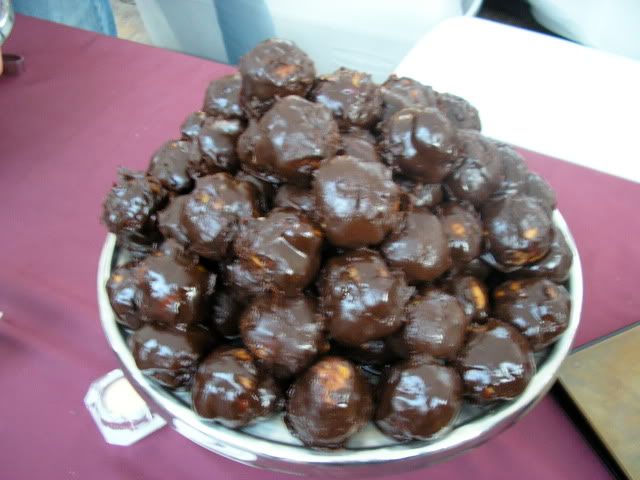 After walking around devouring all of these goodies we went to take a look at the wine glasses that were up for auction along with my wine charms. Marlayna had noticed that my name was on the poster listing the artists. Nice...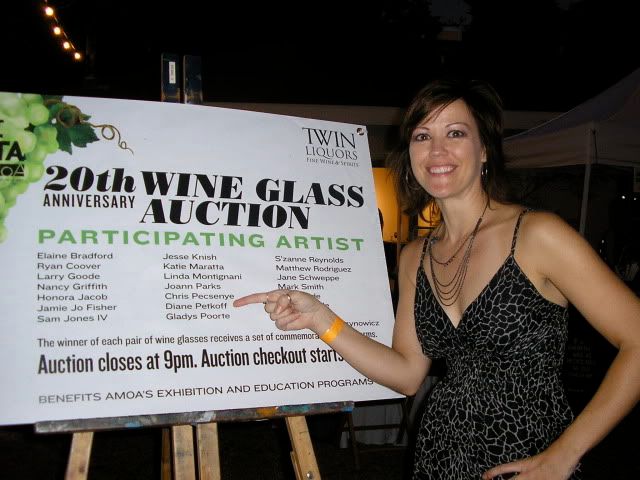 Here is one of the sets up for auction by artist Jane Schweppe: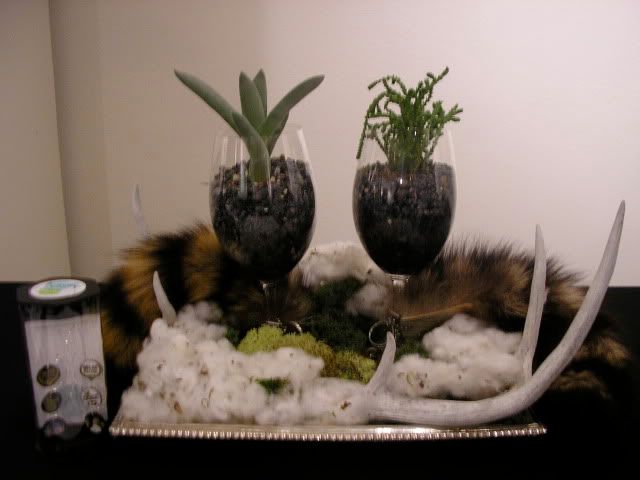 and what was left of my wine charms... :)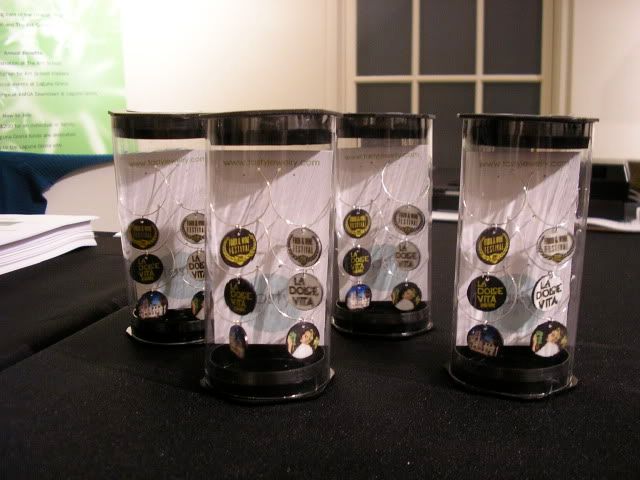 DJ Manny
was spinning for the rest of the evening as people were in search of the last bites.
Texas Coffee Traders
were busy serving hot chocolate, espresso & capuccinos while they offered rock candy stir sticks & glow bracelets. It was a lovely end to a most wonderful evening. My only regret is to not to have attended in previous years.
cheers!
xo diane