Today was one of the rainiest days I've ever seen. Not a crazy thunderstorm, winds whipping, crazy sideways rain type of days...but just the longest, most continuous, not stopping until it soaks everything & everyone type of rain. Through all of this thousands of people still enjoyed hanging out and listening to live music. I've never seen anything like it...like everyone rallied together and just dealt with it.
I had planned on seeing a few more bands than I did today, but the ones I wanted to see were all spread out time-wise. Which would have had me at the park from about 1pm - 10pm...just a little too long seeing as I still have lots of bands I want to see tomorrow.
So I saw Citizen Cope & Ghostland Observatory. I've seen both bands a few times, so I pretty much knew what to expect. Great music, solid performances and with Ghostland I even got a kick ass laser light show. Cool!
The rains came down steady before, during and after the hour long set by Cope. He played mostly songs I already knew with a few new ones peppered in. Alice Smith even joined him at the end to help with vocals. Nice.
I didn't take my phone or camera today, so this stock photo will have to do...
Ghostland Observatory, well, how on earth do you describe their awesomeness? Just very unique, electronic, dance, rock goodness. They hit the stage and didn't stop rocking for 90 minutes. I danced the entire time. At one point they even brought on the University of Texas marching band...a la circuit 1979 Fleetwood Mac's "Tusk". The crowd went wild. The laser show was great, they kept throwing out glow sticks & glow jewelry so everyone in the front was loaded with neon bling. It looked really cool.
Here is a pic of singer Aaron Behrens who is one amazing performer.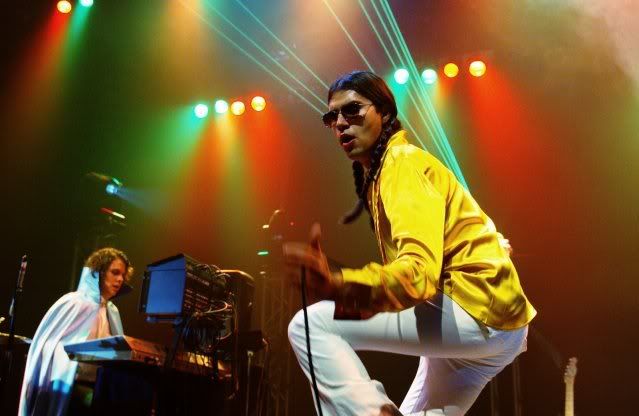 Tomorrow's line up for me: B-52's, White Lies, Arctic Monkeys, Passion Pit, The Dead Weather, (Girl Talk - maybe) & Pearl Jam. It's supposed to rain again all day tomorrow so I'm planning on fashioning a sassy outfit out of garbage bags. ;)
cheers!
xo diane