Today it was supposed to rain...and it didn't. Yay! (I wonder how much weathermen get paid, because I'd like a piece of that action.) And even though it didn't rain today, the effects of yesterday's continuous onslaught were felt by EVERYONE by way of 5" deep mud...everywhere! It was so slippery I'm surprised that more people didn't fall.
Here are my shoes after being there for 15 minutes.
I started off seeing the B-52s today. Classic, retro and just plain fun. They sounded great, looked great and had a huge crowd too.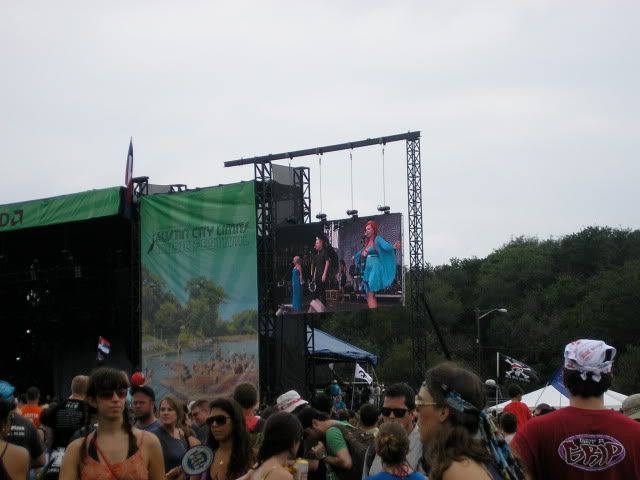 I was really looking forward to my next band White Lies who are from London. I recently became aware of this band through my friend Tim. (who incidentally has brilliant taste in music) I was so excited that they were playing ACL and they blew me away! Definitely one of my favorite new bands of 2009.
...and later I got a chance to meet them and chat a bit about their tour with Kings of Leon. They are definitely a band to watch out for...plus they are really sweet.
Arctic Monkeys were next and I hate to say it, but were kinda blah. Just sort of got up there and played...not a lot of energy or excitement. The crowd up front seemed to get into it, but you have to figure they are the real die hard fans, so I'm glad at least they liked it. Now, don't get me wrong, I really like this band normally, I was just a bit disappointed in their live act.
So next was Passion Pit, but I was in need of some major change of clothes so I decided to dash home, take a quick shower and then return...so I missed them. I did get to hear them play as I was walking back which was very cool.
Next up was Girl Talk. Now I've never heard of this band & didn't know anything about what I was about to witness. But as I moved towards the area of the stage realized that a TON of other people must have known, so I figured I was in for a treat.
First off, Girl Talk is a one man DJ operation, with just a table on stage featuring his equipment. But don't let that fool you. As he took the stage the audience in the front erupted, and as the music started so did the thumping, dancing and jumping up & down. I had never really seen anything like it ever. He was mixing hip hop, with 80's tunes, R & B with pop music. It was insane. I don't think I am exaggerating when I say that there were at least 40,000 people in attendance of that show.
Here's the best shot I could get from where I was...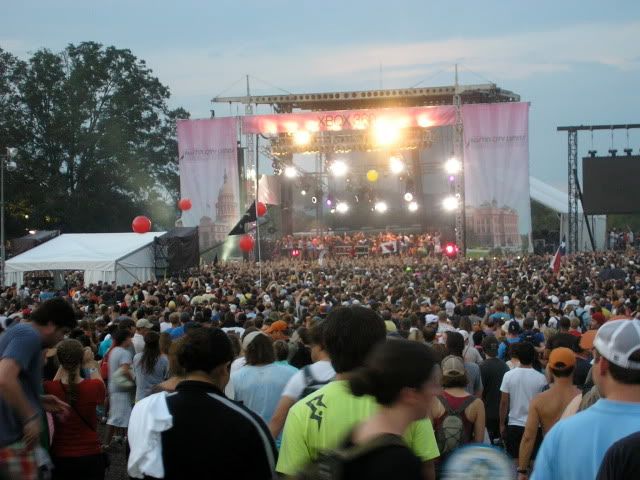 Now this was after he allowed like 50 kids on stage to dance with him the entire time. It looked like so much fun!!!
I decided to head over to see where I could post up for Pearl Jam who were this year's headliners. By the time I got over to that side of the park it was mostly full. Now I could have walked myself through the thick mud & muck in the dark to get closer, but I decided that after 3 days of music, I was happy where I was. Unfortunately once they started the sound was not good. I figured that I could hear it better from outside the park, so after about 4 - 5 songs I decided to make my trek home. They sounded great and how cool that they were back on the road and made time for little 'ole Austin. ;)
All in all, this was such a fantastic ACL festival for me. I got a chance to really just meander and see what I wanted. I ran into several friends there so I had a chance to hang out with them too...I am tired, to say the least, but really inspired by all of the kindness of the people at this festival. It was nice to be a part of something so huge that happens here in Austin.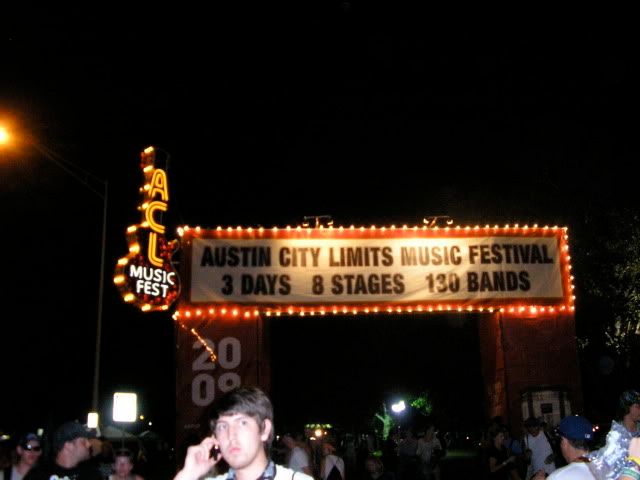 I would be crazy not to say thank you to my sister, Annie, for being so generous on my birthday this year and getting me my ticket. So big hugs & a HUGE thanks for making this event happen for me.
cheers!
xo diane