After Phoenix I walked back home to grab a bite to eat and to change into some jeans. Luckily the weather this year is much cooler than in previous years, so I thought I would take advantage of it.
The next band I went to see was Them Crooked Vultures. Now most people probably haven't heard of them since they don't have an album out yet and have only played a few shows. This is a band comprised of Josh Homme (Queens of the Stone Age, Kyuss & others), Dave Grohl (Foo Fighters, & a little band called Nirvana) & John Paul Jones (uh, Led Zepplin ring a bell?)
So here are these three heavy hitters all doing what they do best and doing it well. The show started out gripping the crowd with tons of energy and never let go. I was pretty far back to start and since I'm somewhat vertically challenged was getting frustrated that I couldn't see much. This was such a unique & rare experience and well, since I'm the type of person that likes to seize the moment during times like these, I decided to work my way up a little closer. So smiling, and excusing myself politely got me pretty far...uh, actually all the way to the front! I really channeled my best friend Caroline (who couldn't be there with me) and feel like that was what made me go all the way up there.
I was so excited to be so close to such greatness. Dave Grohl was a blur of long dark hair and heavy hitting beats. Josh & John Paul were just rockin' it too. It seemed like such a surreal experience. I was about 20 feet from them! If I had a better camera my shots wouldn't have been so blurry...but I did get some pretty good ones. I just wanted to enjoy the show and not worry so much about grabbing a photo.
This one is for my friend Caroline: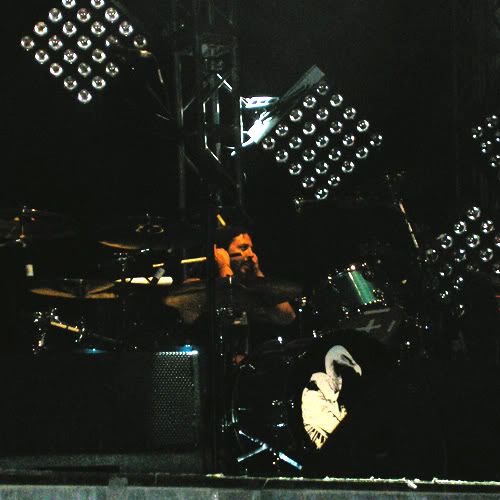 The last show that I saw were the Yeah, Yeah, Yeahs. Karen O. is by far one of the most expressive people I've ever watched on stage. She personifies coolness & creativity. A true pioneer... She was clad in a wildly printed body suit with amazing fish net stockings & accessorized with this cool neon orange fringe necklace, belt & wristband ensemble. Sometimes with a cool cape, sometimes with her signature zippered leather jacket...that girl sure does know how to work a microphone too. Just a force of energy and you could tell how much she loved doing it. She mentioned how much she loved Austin which is cool too.
I was pretty far back so the best pics I could get were on the jumbo tron. Here she is singing "Maps" which was heart-wrenching and so soulful you could feel her pain.
So its raining all day today...just a gentle, soft soaking type of rain that will make the experience all that more exciting. :)
Today I'll see: Mute Math, Citizen Cope, Mos Def, STS9, & Ghostland Observatory. At least that's the plan...it will be interesting to see how people deal with the rain. I'm just planning on wearing a poncho and toughing it out. We'll see how that goes.
cheers!
xo diane