During my recent visit to Versailles we also explored the grounds of the
Grand Trianon
and the
Petit Trianon
which were both separate residences located in the northwestern portion of the grounds.
I was fascinated by the opulent fabrics, vivid colors & overall feminine beauty that was encompassed within these buildings. Spending the day amongst all of this lavishness was bound to have some effect on my designs at some point and it has.
There are two different ways that I see these designs breaking down. One being the over-the-top elaborateness of the furniture, the accessories & the scale of whole place. Its got my head in a tizzy about bold & faceted "grand" pieces that would be one-of-a-kind and quite luxurious. The other takes its cue from the more feminine side of the experience. The fabrics with all of their rich & subtle hues, floral motifs, damask prints & overall softness.
Here are a few pieces that I've already made with the latter in mind. I've used softer colors, antiqued brass & vintage inspired findings but wanted to introduce the idea of faceted crystals into the mix. I found these great metal "tulip" shaped forms which really lent themselves to the overall look I was going for.
seafoam green - bronze pearl - Swarovski® crystal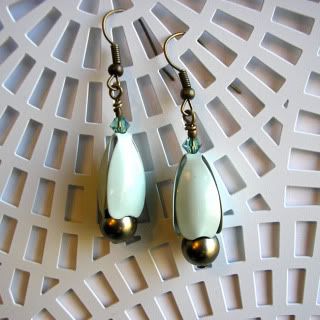 white - chain - Swarovski® crystal
red - freshwater pearl - chain
These earrings are part of a VERY limited edition group that I have created. If you are interested in ordering any of these please contact me via an email through the website:
www.tastyjewelry.com
cheers!
xo diane