so there i was arriving in new york city on a wednesday morning with sadness in my heart. i was hoping to reconnect with myself after such a horrendous start to 2009 and i knew new york was the place to get me there.
my brother had mentioned that we should go out for a really nice meal so he went online to get a phone number. all of a sudden i hear the name "
per se
" thrown into the mix and i think i started hyper-ventilating. okay, was he just pulling my leg? could it really be? there's no way you can just call up per se restaurant and get a reservation just like that. ah, but alas, it was no cruel joke. the stars were in alignment with what was going to commence to be one of the best nights of my life. there happened to be a cancellation on the books and he took it!
i stood there in complete amazement and felt actual tears welling in my eyes. you see, if you don't know what per se restaurant is than maybe this whole post will be lost on you. and if you know me at all, you know that i have a true passion for cooking and for food.
per se restaurant is chef
thomas keller's
foray into the NY food scene. opened in 2004 in the time warner building on columbus circle, it is one of only 3 restaurants in all of NYC that boasts 3
michelin stars
. what does that mean? if you are interested click the link to find out more. basically, its a meal that you won't soon forget.
so here's how our night looked through the lens of a camera. i must say i visit these photos often when i want to be whisked back to that night...
my brother & i waiting in the lounge before the restaurant opened:
his lovely wife:
we chose the chef's tasing menu which i highly recommend. we started with a glass of champagne and since my brother wasn't drinking (due to his performance later in his show that night) they still brought him a glass of sparkling cider so he would be able to toast with us.
our table:
before the first courses arrived we were served our
amuses bouches
of
gougeres
filled with a soft cheese & then these beautiful (and infamous) salmon coronets:
first course:
"oysters and pearls"
"sabayon" of pearl tapioca with island creek oysters and sterling white sturgeon caviar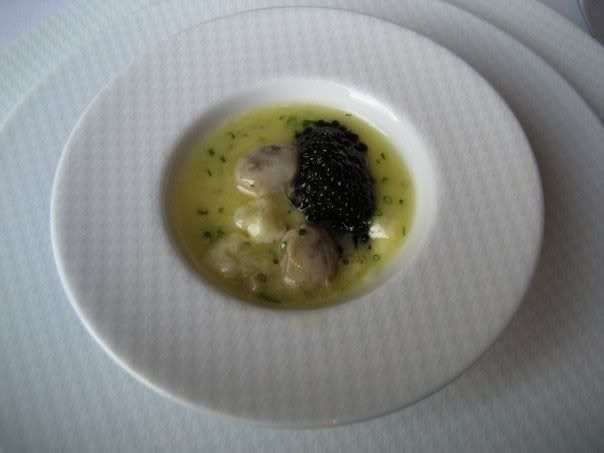 second course:
salad of french breakfast radishes
english cucumbers, broccolini florettes, garlic scapes, and nicoise olive tapenade with garden herbs:
and my brother had (which he shared)
terrine of hudson valley moulard duck foie gras
"gelee d'agrumes", belgian endive leaves, confiture of meiwa kumquats, miner's lettuce & balsamic glaze with toasted brioche. (just to let you know, they brought warm brioche to the table about every 7 minutes because the "chef recommends the toast be warm" when you eat it. (NOTE: this was one of my favorite dishes of the night)
third course:
tartare of pacific bluefin tuna
togarashi lavash, hawaiian hearts of peach palm, spiced turnips, and compressed granny smith apple with field mizuna
and my brother had (which he shared)
sauteed fillet of atlantic halibut
cauliflower and green asparagus "a la polonaise" with brown butter emulsion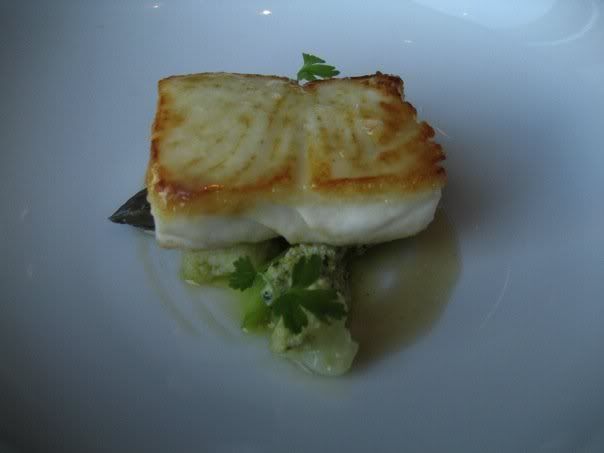 fourth course:
scottish langoustines "a la plancha"
morel mushrooms, sweet carrot crepe and fava bean puree with "mousseline bearnaise"
(NOTE: another one of my favorite dishes)
fifth course:
sirloin of 24 carrot farm's rabbit
wrapped in hobbs shore's applewood smoked bacon, buckwheat spatzle, sunchokes, english peas and pea tendrils with sour cherry sauce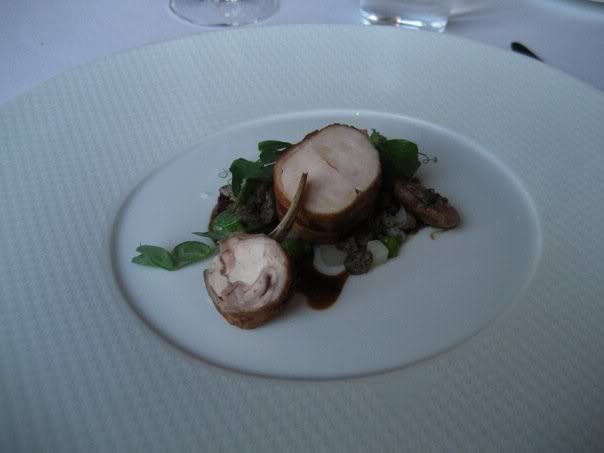 sixth course:
snake river farm's "calotte de boeuf grillee"
"subric de langue de boeuf" roasted beets, young leeks and watercress with horseradish jus
seventh course:
"podda classico"
"pain de campagne" melba, violet artichokes, marinated holland peppers, confit of eggplant and sylvetta with red pepper vinaigrette
eighth course:
coconut sorbet
champagne mango, lime "laces" and toasted coconut
(this was to die for! the lime "laces" were the consistency of a perfect al dente noodle. and were just as long. brilliant tastes. i put my spoon in it before the photo...oops!)
ninth course:
"mille-feuille de poire"
walnut "bavarois", bosc pears and candied walnuts with licorice ice cream
my sister-in-law had (which she shared)
"mud pie"
dark chocolate mud cake, liquid caramel, chocolate "cremeux" and caramel parfait with sassafras ice cream
and as if that wasn't enough food for one person to handle they finish you off with what are known as
"mignardises"
.
a server brought around a tray of house made chocolates which we could choose as many as we wished. then they brought to the table a silver three-tiered stacking dish of fresh made fleur de sel caramels, nougats, truffles (3 different kinds) and miniature hard candies that were individually wrapped. we were urged by our servers that many of the wrapped goodies "often find their way into ladies' purses". well, i wouldn't want their advice to go to waste now would i?
i can't believe it happened. it was so amazing and as each course was brought out the look on our faces must have said it all. we were all so very satisfied, thrilled, and thoroughly enjoyed that experience.
while we were sitting there waiting for our second course one mr. mike nichols & wife diane sawyer came in. my brother had worked with him on "spamalot" so he stopped to say hello. about 20 minutes later their guests had arrived....tom hanks & wife rita wilson. so nice to have dined with you that evening.
so to say my trip to new york was great would be an understatement. i also had a chance to meet up with an old friend from college & and to meet up with a new friend too. since my return things have been a little quirky, but i feel so good about moving forward now. lots of new ideas and things are on the horizon for me...i just can't wait to get back to NYC!!!
cheers!
xo diane