Six years ago I bought this incredible orange vinyl chair from a resale shop in San Antonio and fell in love with it's unique shape and sleek design.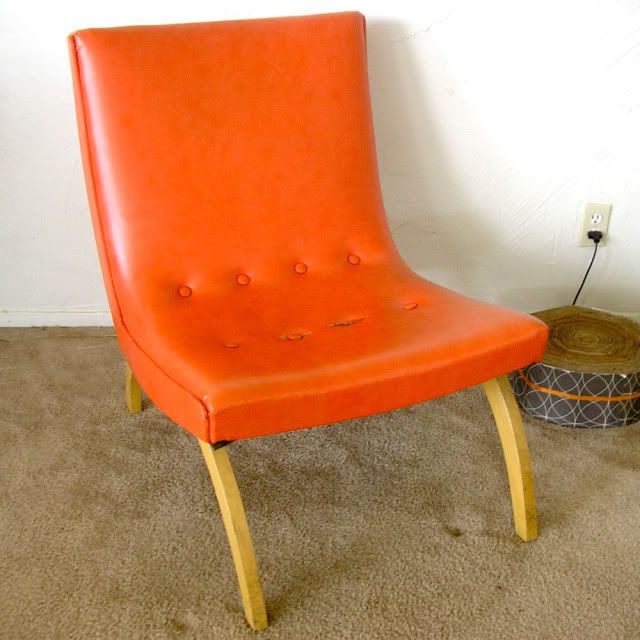 Well, after years of wear & tear the orange vinyl started ripping near the buttons and I felt it was really in need of a serious makeover. (You can see what I mean in the photo above.)
A few years ago on one of my many trips to Ikea I had found this incredible fabric which was whimsical, geometric and had a real vintage feel to it. I had planned on making something fabulous out of it, so until I was inspired it sat in a drawer waiting for the perfect project to emerge. This chair was that project!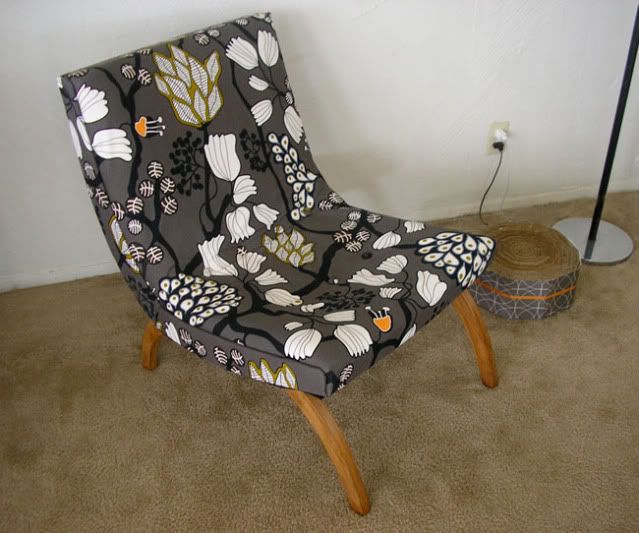 My place has a Danish modern feel to it, and this fabric fit the bill...wonderfully.
The pattern is expressive without being obnoxious. The simple and clean line of the chair is what I feel really made this fabric work.
The project was not a small undertaking by any means...I had to remove all of the vinyl & bottom fabric then I sanded & refinished the legs & created fabric covered buttons. I've never taken any type of upholstery class, but seeing as I create things all day it was a pretty simple project to undertake. I have re-worked lots of furniture in the past and have been inspired & challenged by each and every project I've completed. I love every minute of it, knowing that I will be left with a super cute addition to my living room & knowing that I had a hand in creating it.
cheers!
xo diane