seeing as i have not blogged in about 2 weeks you might be wondering where i've been. well, i have been as busy as a bee updating my website with all sorts of new designs using original artwork.
here is an example of one of my new offerings where i've used my original artwork, printed it onto acrylic, then added a metal ring accent. this is a new design since i've put the disc onto a post style earring. cute and lightweight.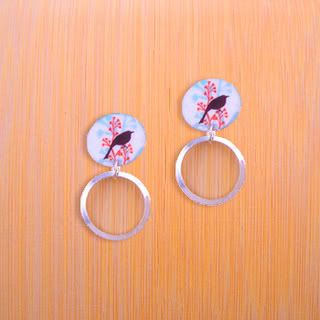 please head over to
tastyjewelry.com
and check out all of the other new goodies. keychains, ped i.d. tags, tea light holders etc. i'll be posting a new item every couple of days just to showcase them. i'm so proud and really hope you enjoy all of the hard work that i've put into this update.
oh, and while you're at it please vote for me!
i'd love to be a contender for this award.
cheers!
xo diane