well, here they are! the patterns have been chosen, and the updates to the website have been made, so without any more fuss here are some new patterns for my recycled coaster sets. they are felt backed to protect delicate surfaces and to reinforce their strength. you get 4 coasters for $16. i've added a few more neutral styles too so they make great gifts for everyone.
here is an example of the "same" sets. you get 4 patterns that are all quite similar with little variance in them. my favorite are these grass ones...oh, so green!
here is an example of the "assorted" sets. you get 4 views of a different part of a larger pattern. colors and sets vary so each set is completely unique.
>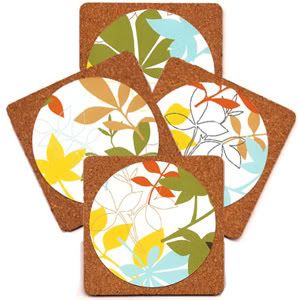 i am ready to start updating this blog on a more regular basis. wish me luck!
cheers!
xo diane