its been several weeks in the making and finally the new FALL line is here! i've been so busy creating new graphics that reflect my modern sense of style and i hope you all enjoy them. i've used rich colors in addition to simple designs to create graphics that i can call "tasty".
here is an image of my new front page...but really, you have to dig around the site to get an appreciation of all of the new goodies available.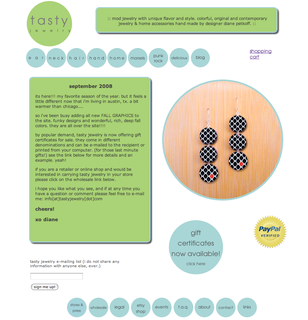 i am really excited about the new pet i.d. tags that are available. there are 50 different styles from which to choose AND you can also custom design your own! they are lightweight which also makes them great for smaller pets too. my cat, gunner, has been the test model for these for about 2 1/2 years. (you think i would have put them on the website before now! sheesh!)
so, i'm excited to say the least and i am looking forward to a wonderful fall/winter season.
cheers!
xo diane