i don't know what's happened lately. i seem to have fallen off the bloggers wagon and into some strange abyss. i've been getting organized and going through all my stuff getting rid of the old and not adding anything new. (thank goodness since i don't have any more room anyways!)
the old stuff is going to be listed over on
my etsy site
under the "jewelry" section. basically i'll be listing discontinued items from the website and will also feature a ton of one-of-a-kind items that never made it there. there are many times when my creativity strikes and i just have to make whatever it is that's "calling" me. i've found some really great treasures that need a good home. and while you're over there check out my beads and other jewelry making components...if you're crafty they might be right up your alley!
in the meantime, here is a pic of my current studio setup. i have to be completely organized or i won't be able to find anything. enjoy!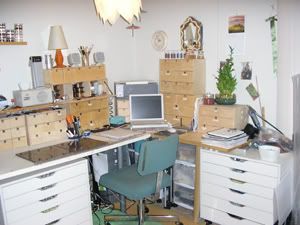 i will be returning to the daily blog as of august 3rd since i really miss the challenge of writing everyday. so look out!
cheers!
xo diane